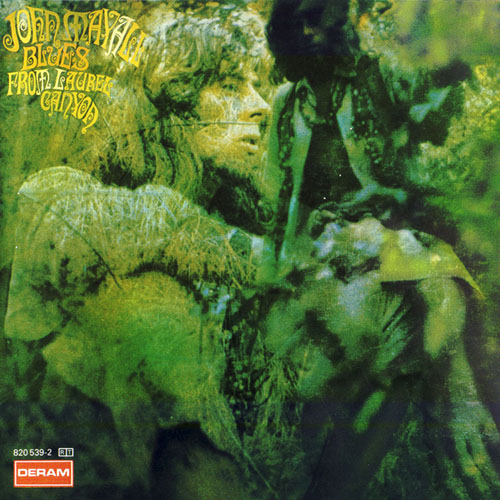 John Mayall - Blues From Laurel Canyon

John Mayall
Mick Taylor - lead guitar and hawaian guitar
Stephen Thompson - bass guitar
Colin Allen - drums and tablas


I'm sorry about the mess up.This LP came out late in '68. I'll sort it out when I get a chance.
Side One
Vacation 2:47
Walking on Sunset 2:50 *YouTube
Laurel Canyon Home 4:33 *YouTube
2401 3:42
Ready to Ride 3:32
Medicine Man 2:43 *YouTube
Somebody's Acting Like a Child 3:27
Side Two
The Bear 4:40 *YouTube
Miss James 2:30
First Time Alone 4:49
Long Gone Midnight 3:27
Fly Tomorrow 8:59 *YouTube



Lyrics
Ten hours in a plane - England left behind
Back here in LA - Wonder what I'll find
Summertime, my plane is coming down
I'm a wandering man and this is gonna be my town
Vacation
back to YouTube
Watching all the people like the waves along the shore
They hang around he whiskey and every open store
I'm walking on sunset
And I'll never reach the end
I'm walking on sunset
Everything is like a friend
All the pretty women, never seen a better crop
Music all around, the flashing lights will never stop
I'm walking on sunset
And I'll never reach the end
I'm walking on sunset
Everything is like a friend
Standing at the corner watching every kind of car
Friendly people come and say they wanna see your star
I'm walking on sunset
And I'll never reach the end
I'm walking on sunset
Everything is like a friend
The cops were in the car but they never bothered me
A new magic world - I never felt so free
I'm walking on sunset
And I'll never reach the end
I'm walking on sunset
Everything is like a friend



Each and every morning
When the sun is high
I hunt around the Canyon
Till I find a place to lie
Oh, oh, it's so beautiful to be alone
Got the sun and trees and silence
I'm in my Laurel Canyon home
Looking back a century
I look at where I stand
It must have looked the same as when
Apaches roamed the land
Now the sun is sinking
It's time to reminisce
Here's a way of living
That I will sorely miss



There's a hero living at 2401
and all around
A family circus in the sun
Got his Mothers working
While you're having fun
Trying to change the system
Many things that must be done
Where did Moon go?
Better call at GTO
In the red room
Pam is planning where to go
Gail and Pauline
Who is prowling round your door?
A maniac, The Raven
Could he have his gun back? No!
2401, got myself a place to stay
On the railroad, Kansas nearer every day
Miss Christine cooking
Looking very gay
How do you say a Thank You?
How do you ever tear yourself away?



I've waited a long time
To get my loving done
There's so much beauty around here
I'm bound to find me one
I said, "Baby,
Don't you run, you can't hide
My love is boiling over
'Cos right now I'm ready to ride"
Took me one week to find her
We danced a special way
She got me so excited
That I couldn't walk away
Love all night till the morning
She nearly wrecked my mind
She's got to be the best lover
A man could ever hope to find



Had a bit of bad luck
Something I would never plan
Got a little trouble
Help me any way you can
I'm out of circulation
So take me to your medicine man
Loving is a gamble
Never knowing who to choose
Find yourself a winner
Then you find you picked to lose
Now I've gone and lost
And I don't want no told you so's
Maybe you were lucky
Funny, that's the way it goes



Somebody's Acting Like A Child
Just a silly kind of quarrel when we made each other wild
Maybe both of us were wrong but somebody's acting like a child
You shouldn't have been so selfish
I shouldn't have walked out
It makes you kind of wonder what love is all about
Now I've gone and lost my feelings ever since you got me riled
Maybe we should talk it over - Somebody's acting like a child

The Bear
I've been living with the Bear in a big house full of blues
Going back through the years, hear any record you choose
The sun is shining down and the Bear is rolling in the shade
Everybody is gonna boogie, blues roll night and day
Turn on all of the people who got no place to stay
All the men of Canned Heat are part of my family
I'm gonna remember the things they did for me
I got to be moving, they call me Wandering John
I'll see you, old Bear. I'll be back 'fore long...



I read about her in a magazine
The writer painted her in colors of a queen
Other people said bad things instead
So I was curious to check out what I read
But asking around she couldn't be found
Strange, elusive Miss James!
Two weeks later I was down the Shrine
Saw a pretty girl who would suit me fine
Rushing around we forgot to trade names
I didn't connect her with the one I called Miss James
I was surprised when I realized
The two were one and the same
I had the phone company give her number to me
I called her at home, she said she was alone
Would she see me tonight?
Yeah, that was alright...



There was nothing like that first time
I was alone with you
And the glow of your eyes told me love
Sweet perfume in your hair
There was nothing like the way
Time went by as we lay by the fire
And the burning logs flickered flames
That drew us close without a sound
First time I was alone with you
Your bed was so soft with your sweet whispering
Your fingers explore my burning skin
Gentle as a butterfly
No matter how many things we've known together
There will never be such a peace
Like that first time
I was alone with you



Long gone midnight and I want my woman so bad
No use waiting for her
She won't come, I call that sad
Long gone midnight and it's a cold wait till the dawn
Sometimes love can make you wish that you had never been born
Long gone midnight and I miss her though she don't care
When you've just lost your lover there's nowhere to go -
Nowhere



Got to fly tomorrow
Got to pack my gear
Re-adjust my mind
My time is near
Fly tomorrow
Got to pack up my gear
Fly tomorrow
Now my time is drawing near
Fly tomorrow