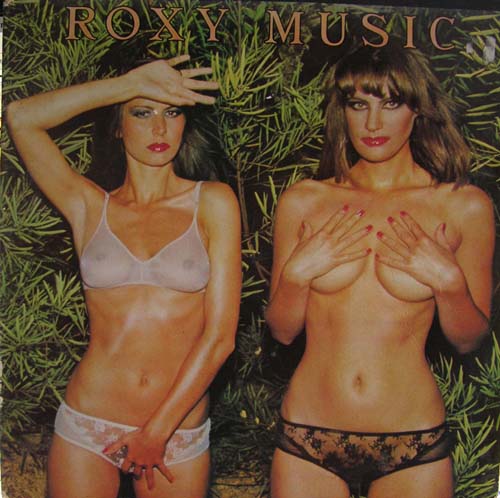 Roxy Music - Country Life

Bryan Ferry - Vocals, Keyboards
Andrew Mackay - Oboe, Saxophone
Paul Thompson - Drums
Phil Mantanera - Guitar
Edwin Jobson - Strings, Synthesizer, Keyboards
John Gustafson - Bass

Side 1
The Thrill Of It All *YouTube
Three And Nine
All I Want Is You
Out Of The Blue
If It Takes All Night
Side 2
Bitter-Sweet
Triptych *YouTube
Casanova *YouTube
A Really Good Time
Prairie Rose *YouTube



Lyrics
The sky is dark
The wind is cold
The night is young
Before it's old and grey
We will know
The thrill of it all
The time has come
It's getting late
It's now or never
Don't hesitate or stall
When I call
Don't spoil
The thrill of it all
And before you go to sleep at night
Preying shadows - do they ask you why?
And in the morning through the afternoon
Do you wonder where you're going to?
Every word I use
Each crumpled page
Strange ideas
Mature with age
Like leaves
When autumn falls
Turn gold
Then they hit the ground
Every time I hear
The latest sound
It's pure whiskey
Reeling round and around
My brain
Oh and all o' that jive
It's driving me wild -
The dizzy spin I'm in
Everywhere I look
I see your face
I hear your name
It's all over the place
Hey girl
Though you've gone
Still I recall
The thrill of it all
You might as well know what is right for you
And make the most of what you like to do
For all the pleasure that's surrounding you
Should compensate for all you're going through
So if you're feeling fraught
With mental strain
Too much thinking's got you down again
Well let your senses skip
Stay hip
Keep cool
To the thrill of it all
When you try too much
You lose control
Pressure rises
And so I'm told
Something's got the give
Oy Weh
High life ecstasy
You might as well live
I can't see
I can't speak
I couldn't take more than another week
Without you - oh no
So I will drink my fill
Till the trill is you
Oh the thrill of it all
Oh the thrill of it all
No I won't forget
The thrill of it all



You might remember
How it used to be
3 and 9 could show you
Any fantasy
Parti-coloured pictures
Now and then 3D
No cheap nostalgia
Conjured up by me
Back to the old days
Close to home
Show me some new ways
I'll carry on
Whether making out or played out
Three and nine make twelve
I've a dozen reasons
Lying on the shelf
B feature back rows
Filed away
No point pretending
Change is here to stay
3 and 9 to 45
Decimal romance
If you've warmed to centigrade
You stand a sporting chance
I'm not so special
You're a misfit too
Why must they interfere
In everything we do?
Should we play safe now
Or go all the way?
Six and two threes now
More I cannot say



Somebody told me
Just the other day
That you're leaving me
We're through
Well if you knew
How it hurt me so
Then you'd change your mind
I'm sure
Don't want to hear
What's going on
I don't care
What's new
Don't want to know
About anything
'Cos all I want
Is you
Going out with other girls
Was always such a bore
Bit since I fell in love with you
I need you more and more
Don't want to know
About one-night-stands
Cut-price souvenirs
All I want is
The real thing
And a night that lasts
For years.
If you ever change your mind
I've a certain cure
An old refrain, it lingers on
L'amour, toujours l'amour . . .
Don't want to learn
About etiquette
From glossy magazines
Why should I try
To talk correct
Like they do
In other scenes
Say no more
About imagery
You're starting to confuse
Just make an offer
Of more romance
Of course I can't refuse
All I want is you
Oo oo I'm all cracked up on you



Out Of The Blue
(Ferry/Manzanera)
All your cares
Now they seem
Oh so far away
All your fears
I fear I once shared
Now I know
There's a future
For all of us
Not so long ago
I was so scared
You seemed so sad
I could see
Through your twisted smile
So unsure
Always confused
Pale blue eyes
Gazing down
From your ivory tower
Through the haze
All broken and bruised
Then: out of the blue
Love came rushing in
Out of the sky
Came the sun
Out of left field
Came a lucky day
Out of the blue
No more pain
I don't mind
If it's only
A passing craze
Throwaway lines
Often ring true
If I were you
I would stay
For a little while
If you were me
Would you walk out
In style?



Oh here it comes again
That old ennui
I hope it won't stay long
Well it's every-man to his own thing
And every singer to his song
If you're feeling low
And all upset
Nothing's going right
You just make a wish
Like in a fairy tale
And I'll bewitch you
If it takes all night
There are many things
That I could say
To try and comfort you
But I know the words you'd like to hear
Are simply "I love you"
Sometimes I'm up
Sometimes I'm down
A topsy-turvy life
But only searching
For the truth
And I'll find it
If it takes all night
Well I myself
My main concern
Is what I can afford
So if music be my mistress
Then at least she's Madame Claude...d'accord
Ah - more champagne!
To lose this pain
Would be very nice
So I'll help myself to one more drink
And I'll find myself
If it takes all night



Well this is such
A sad affair
I've opened up my heart
So many times
But now it's closed
Oh my dear
Every salted tear
It wrings
Bitter-sweet applause
But when the show's in full swing
Every once in a while
High stepping chorus lines
Mean I'm forgetting
Mein lullaby - liebchen
How rich in contrast
Love can be
Sometimes Im quite amused
To see it twist and turn
To taste - both sweet and dry
These vintage years!
Lovers you consume, my friend
As others their wine
Nein - das ist nicht
Das ende der welt
Gestrandet an leben und kunst
Und das spiel geht weiter
Wie man weiss
Noch viele schnste...wiedershen
And now, as you turn to leave
You try to force a smile -
As if to compensate -
Then you break down and cry



Here the soil is barren
Here - nothing grows
But crosses
They - know not what they do
You - your forgiveness
Falls as dew
Nailed upon a wooden frame
Twisted yet unbroken
Open mouthed a silent choir
Understood, unspoken
Never was there heard a sound
Until the heavens opened
Now the tide is turning
To other-worldly yearning
Though the sun's eclipse seems final
Surely He will rise again



You - the hero
So many times
You´ve loved
And didn´t linger
Now my finger
Points at you
- Another loser
You - an island
On your own
Complete
In every detail
Monumental
A precious jewel
Or just a fool
Innovator
It´s in your mind
And blood
I watch it simmer
I see you´re courting
More despair
No hope?
Not a glimmer
Now you´re nothing
But second hand
In glove
With second rate
Now you´re flirting
With heroin
- Or is it cocaine?
Casanova -
Is that your name
Or do you live there?
I know my place
Is here with you
Tonight
But not together



You´re heard enough
Of the blues and stuff
You´re pretty swell now
´cause you´re pretty tough
But I don´t have to tell you
How hard it can be to get by
You never bothered
About anyone else
You´re well educated
With no common sense
But love - that´s one thing
You really need to get by
All your troubles
Come from yourself
Nobody hurts you
- they don´t care
Just as long as you show them
A really good time
All the things
You used to do
A trip to the movies
A drink or two
They don´t satisfy you
They don´t tell you anything new
You know I don´t talk much
Except to myself
´cause i´ve not much to say
And there´s nobody else
Who´s ready and willing
And able to know me - I guess
Listen to me
I´m not finished yet
There´s something to tell you
That I can´t forget
Just have a really good time
There´s a girl
I used to know
Her face is her fortune
She´s got a heart of gold
She never goes out much
But boy - when she does
Then you know
She´s got no money
Well, maybe a dime
But she knows what she´s worth
And that´s reason why
She´s gonna make it
She´s got what it takes
You´ll appreciate that
She´s probably late
But I know
And you know
We all know
She´ll have a really good time



Prairie Rose
(Ferry/Manzanera)
Texas

That's where I


Belong


It seems to me
Texas

Lonesome star


Shine on


The big country
Texas

With open skies


And you


For company
Texas

Oh prairie rose


How happy


I should be
Hey hey

You can take it from me
Hey hey

I'll be coming, you'll see
Hey hey

Oh what a state to be in
Hey hey

You're tantalising me
Texas

I will compose


In fancy rhyme


Or just plain prose
Texas

A song of praise


To you


Prairie rose
Texas

Though I'm not sure


I can explain


Your strange allure
Texas

Prairie rose -


A crown of thorns


A scented flower
Hey hey

I'd better leave right away
Hey hey

I can hear you calling me
Prairie rose