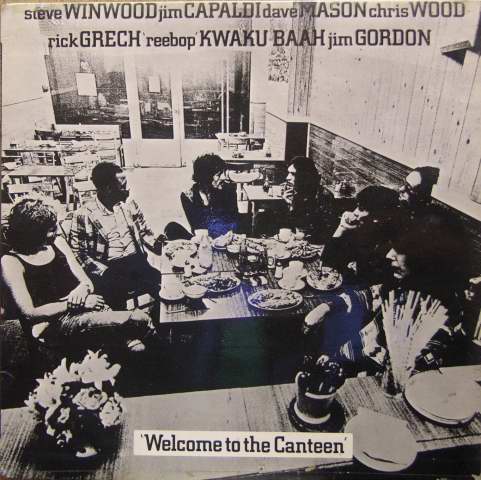 Traffic - Welcome To The Canteen


Jim Capaldi : Vocals/ Tambourine/ Percussion.
Jim Gordon : Drums.
Rick Grech : Bass.
Dave Mason : Vocals/Lead Guitar/Acoustic Guitar.
Reebop Kwaku Baah : Congas/ Timbales/Bongos.
Steve Winwood : Vocals/Organ/Electric Piano/Guitar.
Chris Wood : Saxophones/Flute/Electric Piano/Organ.

Lyrics
Side One
Medicated Goo *YouTube
Sad And Deep As You *YouTube
Forty Thousand Headmen *YouTube
Shouldn't Have Took More Than You Gave
Side Two
Dear Mr Fantasy *YouTube
Gimme Some Lovin'



Medicated Goo
(Miller, Winwood) - 3:34
Pretty Polly Possum what's wrong with you?
Your body's kind a weak
And you think there's nothing we can do
Good Golly Polly shame on you
Cause Molly made a stew that'll make a newer girl out of you
So follow me, its good for you
That good old fashioned Medicated Goo
Ooo, aint' it good for you?
My own homegrown recipe'll see you thru
Freaky Freddy Frolic had some, I know
He was last seem picking green flowers in a field of snow
Get ready Freddy, they're sure to grow
Mother nature just blew it
And there's nothing really to it I know
Aunty Franny Prickett and Uncle Lou
They made some Goo
Now they really sock it to their friends
Frantic friends and neighbors charge the door
They caught a little whiff
Now they're digging it and seeking more
Sad and Deep as You
(Mason) - 3:48
Lips that are as warm could be
Lips that speak too soon
Lips that tell a story
Sad and deep as you
Smile that's warm as summer sun
Smile that gets you through
Smile that tells a story
Sad and deep you
Eyes that are the windows
Eyes that are the dew
Eyes that tell a story
Sad and deep as you
Tears that are unspoken words
Tears that are the truth
Tears that tell a story
Sad and deep as you



Forty Thousand Headmen
(Capaldi, Winwood) - 6:21
Forty thousand headmen couldn't make me change my mind
If I had to take the choice between the deafman and the blind
I know just where my feet should go and that's enough for me
I turned around and knocked them down and walked across the sea
Hadn't traveled very far when suddenly I saw
Three small ships a-sailing out towards a distant shore
So lighting up a cigarette I followed in pursuit
And found a secret cave where they obviously stashed their loot
Filling up my pockets, even stuffed it up my nose
I must have weighed a hundred tons between my head and toes
I ventured forth before the dawn had time to change its mind
And soaring high above the clouds I found a golden shrine
Laying down my treasure before the iron gate
Quickly rang the bell hoping I hadn't come too late
But someone came along and told me not to waste my time
And when I asked him who he was he said, 'Just look behind'
So I turned around and forty thousand headmen bit the dirt
Firing twenty shotguns each and man, it really hurt
But luckily for me they had to stop and then reload
And by the time they'd done that I was heading down the road
Shouldn't Have Took More Than You Gave
(Mason) - 5:39
You shouldn't have took more than you gave
We wouldn't be in this mess today
And though we've gone our separate ways
The dues we have to pay are still the same
Trying to change the script for this old play
Reading and not feeling what you say
You re coming on too strong for me to stay
Interpret what youre seeing anyway
Seems the simple things are the hardest to explain
Its going to come too soon, theres another way
Footprints in the snow will show well things are still the same
Beneath the wall of sound someone helps to live again



Dear Mr. Fantasy
(Capaldi, Winwood, Wood) - 10:57
Dear Mister Fantasy play us a tune
Something to make us all happy
Do anything take us out of this gloom
Sing a song, play guitar
Make it snappy
You are the one who can make us all laugh
But doing that you break out in tears
Please don't be sad if it was a straight mind you had
We wouldn't have known you all these years
Gimme Some Lovin'
(Davis, Winwood, Winwood) - 9:02
Well, my temp'rature's risin' and my feet on the floor,
Twenty people knockin' 'cause they're wanting some more,
Let me in, baby, I don't know what you've got,
But you'd better take it easy, this place is hot
So glad we made it, so glad we made it
You gotta gimme some lovin', gimme some lovin'
Gimme some lovin' every day.
Well, I feel so good, ev'rything is sounding hot,
Better take it easy, 'cause the place is on fire,
Been a hard day and I don't know what to do,
Wait a minute, baby, it could happen to you.
So glad we made it, so glad we made it
You gotta gimme some lovin', gimme some lovin'
Gimme some lovin' every day.
Well, I feel so good, ev'rybody's gettin' high,
Better take it easy, 'cause the place is on fire
Been a hard day, nothin' went too good,
Now I'm gonna relax, honey, ev'rybody should
So glad we made it, so glad we made it
You gotta gimme some lovin', gimme some lovin'
Gimme some lovin' every day